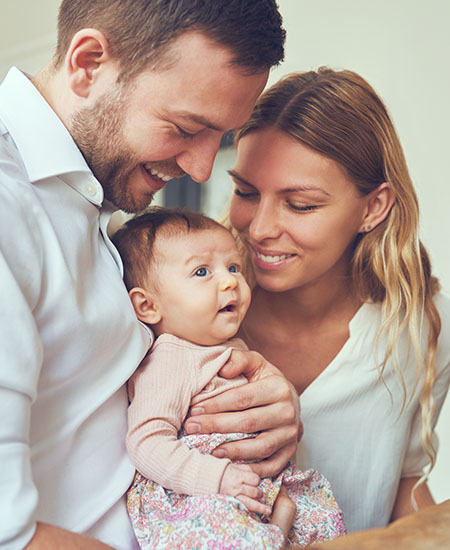 To schedule your consultation, call our offices at (702) 722-2229
Preparing for your infertility consultation
It's our pleasure to welcome you to Green Valley Fertility Partners. We are here to help you through the process of diagnosis and treatment, starting with your initial consultation with your physician and patient coordinator here at our clinic. The goal of this first visit is to thoroughly evaluate your medical history, outline a diagnostic plan to determine the specific needs of your case, and to design a treatment plan that is customized to your individual situation. Your physician and patient coordinator will be spending one-on-one time with you during this initial visit, making sure you are an informed and knowledgeable participant in your treatment.
To assist you in preparing for your consultation, we have outlined some commonly asked questions regarding what to expect during and after your consultation, materials and information to bring with you, and important pre-consultation reminders.
Your Title Goes Here
Your content goes here. Edit or remove this text inline or in the module Content settings. You can also style every aspect of this content in the module Design settings and even apply custom CSS to this text in the module Advanced settings.
How should I prepare for the initial consultation?
Please bring your driver's license and insurance cards to your appointment. After your consultation, our billing department will call your insurance and find out what coverage, if any, you may have for fertility diagnosis or treatment. Prepare to bring with you a copy of your medical records from your OB/GYN, primary care physician, or any other fertility programs that add to your medical history. This copy will be for the office to keep on file as a part of your medical record, so make sure that you have your own personal copy as well. Your doctor can also fax these records to us directly, but arranging this will be your responsibility.
Should my partner come with me for this visit?
Because this is a time for asking clarifying questions, we invite and encourage your partner to accompany you to your initial consultation both to learn with you, and to support you. However this is ultimately your decision, your partner's presence is not necessary during this visit.
Can I meet with a financial counselor to discuss payment options?
After the initial consultation, there is also an opportunity to discuss the financial package options available to you. Our on-staff financial counselor will assist in explaining a price breakdown of the services provided by Green Valley Fertility Partners so that you can have a clear idea of the costs and timeline of payments with respect to your treatment plan.
Do you take insurance?
Our doctors do hold contracts with a number of PPO plans and some HMO plans as well. When planning for financing your treatment, it will be your responsibility to contact your insurance provider and check your coverage options for fertility. Once you have visited our office and become an established patient, our staff will also be checking with your insurance company to ensure that you receive all of the coverage that your plan provides. This screening process typically takes 2-3 working days to confirm. Someone from our office will contact you and inform you of what your insurance benefits tells us what is covered or not covered.
What forms do I need to complete before my initial consultation?
Please visit https://greenvalleyfertility.com/patient-info/new-patient-forms/ to download the New Patient Package. This form gives the doctor details of your medical background, and should be completed prior to your initial consultation for the doctor's reviewing purposes. You can download these forms from our website, and they will also be sent to you directly before your scheduled appointment time (either via email, fax, or post).
How soon can I schedule my initial consultation?
Typically we will be able to schedule your appointment within 1-3 days after your call to the front desk, sometimes sooner.
How long does it take to determine the diagnosis and construct a treatment plan?
Because diagnoses vary significantly from patient to patient, consultation with your physician will establish the details and time frame of your treatment plan.
How long will my first visit take?
From arrival to checking out, expect to be in the office anywhere between 60 to 90 minutes. Please arrive 10 minutes before your appointment.
Do you treat patients outside of Southern Nevada?
We treat patients from anywhere within the United States and abroad. If necessary, patients can coordinate between their doctors at home and an GVFP fertility specialist to create a cycle calendar that works with their schedules. Phone consultations are also available for patients from out of town.
What will be the total cost of my treatment and what are my options for payment?
Once your treatment plan is outlined and a schedule is created, our financial counselor will be able to give you an itemized list of costs and fees for all necessary services.
What tests are administered at my initial visit?
We do not typically do any testing as part of your initial consultation. However, at your second appointment with Dr. Fisch he will most likely want to do an ultrasound to assess your ovaries, and may also include a few standard blood tests, typically including the following:
FSH (follicle stimulating hormone)
LH (luteinizing hormone)
Estradiol
TSH (thyroid stimulating hormone)
PRL (Prolactin)
Note: Your doctor may recommend more testing, based on your medical history and assessment. You can choose to have testing done at any time before beginning treatment.
After our diagnosis on the first visit, how long will it be until we can start treatment?
Treatment may begin as soon as the information is sufficient to work up a recommendation. Treatment can often start within one cycle, approximately one month.
How long should I expect to undergo treatment?
Because every patient's unique case is contingent on so many different factors, the duration of your individual treatment can only be determined by your doctor.
What are your success rates?
After reviewing your individual clinical situation, your doctor will be able to give you a more accurate idea of what to expect from your treatments.
How many times will I have to attempt IVF before becoming pregnant?
It is our hope that you will become pregnant after your first attempt. There is no policy at GVFP regarding the number of recommended cycles to achieve pregnancy. The average number of IVF cycles to achieve a successful live birth depends on embryo quality, age of the woman and quality of the sperm.
What is the rate of success at your clinic for IVF per embryo transfer? What is the number of embryos generally transferred each time?
At GVFP, we hope to achieve a pregnancy resulting in a single healthy baby. For this reason, we do not usually encourage transferring multiple embryos.
What is the monitoring process for my treatment, and how frequent will it be?
The standard process for monitoring during treatment involves ultrasound and blood work every several days during an IVF cycle. This typically lasts 10-14 days. An IUI cycle typically involves ultrasounds and using an ovulation predictor kit at home.
Is it always my doctor who performs monitoring during my treatment, or will other physicians or nurses be monitoring me as well?
Yes, At GVFP , Dr. Fisch performs all ultrasounds and procedures in the office.
We understand that these are only the first few questions you may have in preparing for your first visit. Remember that you can contact us any day of the week with further questions or clarifications. Our staff is also available after hours to answer any clinical question that arises during your cycle, and provide support so that you always feel informed and empowered as you go along. To schedule your initial consultation, you may call our offices at (702) 722-2229 or visit our website at www.GreenValleyFertility.com
We hope to see you soon!